3 years ago when my roommate Katie and I moved into our new apartment her mom gifted us with a couple Anthropologie light switch covers to make our apartment pop! I fell in love with them and seriously looked for more for the next year. Everyone I found was around $20-30 and there was no way I was going to pay that much for a switch plate! I finally caved and bought one on Amazon that matched our comforter perfectly and was masculine enough for Bret to actually like as well. Bret and I moved into our own apartment a few months ago and sadly the switch plate doesn't fit our new light switches. So the hunt went on again! Finally I realized I probably could make these myself (and for much cheaper) and it turns out for $6 I totally could! For $6 I made 3 new light switch plates for our apartment and they were so easy to do and look adorable!
How to:
Materials:
-1 piece of scrap book paper
-a cheap foam paint brush
-a bottle of modge podge (i happened to have gloss on hand)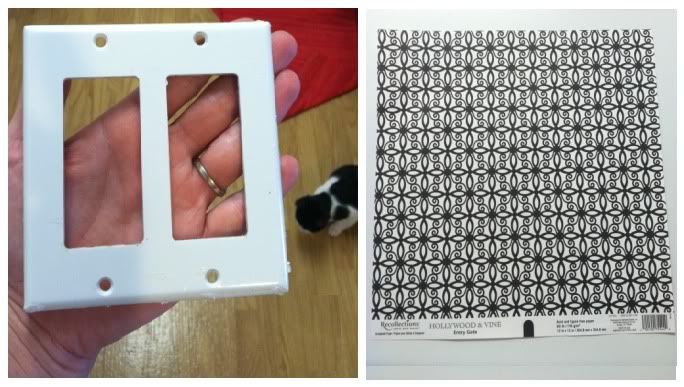 #1: Take the light switch off your wall with a screwdriver
#2: take your scrapbook paper and lay it face down (contrary to what my pic says..oops)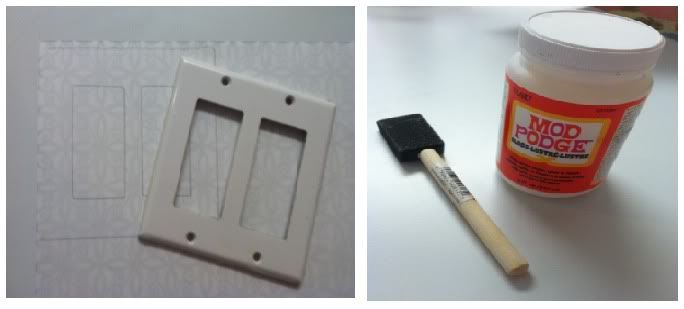 #3: Trace the light switch onto the paper and cut it out. Don't forget the holes for the switches! Also, when you cut give yourself a little bit of extra room on all 4 sides so that the paper can slightly fold over the edges of the plate...otherwise the edges will be totally white, which is also okay
#4: Get your modge podge ready!
#6: paint the whole plate with modge podge and lay the cut out paper face up directly on top. Then generously paint the whole top of the paper with the modge podge (don't forget all the sides) . I then cut the corner pieces into tiny little slits so they over layed better. It will look like the modge podge is turning white but dont worry, it dries clear!
#7: let it dry for a good 40 minutes
#8: hold the light switch up to the light so that you can see the little screw holes. Take the original screw and gently pop the screws through
#9: Re Screw the plate to the wall and....tadaa!!